About
---
Lyne Grenier epitomizes honesty, creative solutions and hard work. A former financial advisor, Lyne followed her passion for real estate, joining RE/MAX ROYAL (JORDAN) INC. in 2008. Following her dreams has lead Lyne to become one of the agency's leading real estate brokers. She works tirelessly to make her clients' own real estate dreams come true. Selling a home can be one of the most stressful events in life; therefore, Lyne tenaciously protects her clients' interests. She offers buyers and sellers alike, in the West Island, where she lives, and in Greater Montreal, precise information on the current real estate market and property values, giving them a realistic projection on what they can achieve. Uncompromised integrity is the hallmark of Lyne's service. She's present at her clients' homes every time another broker brings prospective buyers to her listings. No lock-boxes for Lyne! This attention to detail gives clients peace-of-mind as well as insight into how the property is perceived on the market. With Lyne, negotiations start when the doorbell rings. Residential and commercial clients choose to work with Lyne for her expertise, ethical service and extensive network. With a BA in Finance, Lyne is a smart negotiator with a reputation for obtaining optimum deals but her ultimate goal is client satisfaction.
Properties
---

Loading
Testimonials
---
Lyne has been pleasure to work with. The level of commitment and integrity she offers to her clients is unmatched. Have a great day! Michael
I met Lyne during a visit to a house for sale and was so impressed I asked her if she could be my agent. I am very happy that I did. She has an incredible work ethic and gives you straight answers. Lyne made the process of buying a house very enjoyable and simple for me and my wife. Lyne does far more than your typical agent by giving excellent advice, research to find you what you want, contacts and impeccable followup. She truly cares for her clients. Highly recommended. Marc P.
Just a quick word to thank you for your professionalism, your patience & your little attentions .
I would like to take this opportunity to tell you after selling eight homes on the West Island in the past 40 years I can honestly say that I have never dealt with a more conscience, professional and efficient real estate agent like Lyne Grenier. I highly recommend her and have no doubt she will sell your home as quickly as she sold ours and be with you every step of the way. B. Goldstein
TRANSLATION: Dear Lyne,Recently, my wife and I decided to sell our property in order to move on to the next step in our lives. Of course, being very attached to our home in which we had spent the last 40 years, we wanted to make the right decision in order to pass on the torch and to leave with the satisfaction of having obtained a fair price. After having analyzed the different sales methods offered by multiple real estate agencies and witnessing the various steps of a transaction, we remain convinced that choosing you as our agent was a key element of our success. Furthermore, Lyne, your advice, professionalism and constant implication in the process allow us to believe that you played an intricate part of our success in such a short span of time. We wish you the best of luck in your future endeavours in the real estate world and many transactions to come. We'd also like to thank you for the Tranquili-T contract. Sincerely grateful, Lucie and Marc Côté Beaconsfield, QC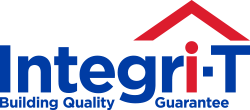 The key to solving latent (hidden) defects.
The Integri-T plan is a guarantee offered to buyers and sellers who want peace of mind in the event of latent defects. This unique coverage exclusive to RE/MAX provides financial protection to buyers and sellers in case of a claim.
Learn more